hello and welcome!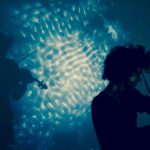 I am a Nature Lover who studied classical and baroque Violin. Then jumped into the Music Worlds of  the Balkan, Klezmer, Flamenco and Jazz. Studied Media Composition and Recording. Got my Studio. Started Composing. Involved the electronic possibilities in Playing and Composing. Using the violin with effect pedals and loop. Creating Soundworlds to dive into.
Done various projects all over this planet. Bands, Orchestras, Baroque-Ensembles, Soloperformances, Collaborations with  musicians from many cultures , dancers, performers, DJs and  visual-artists. Composing soundtrack and sound-design for films, documentaries, theater and contemporary dance.
Traveled a lot, lived in mediteranian countries, fall in love with the Sea and diving.
I create compositions to dive into. Performances are  "Soundtracks of the moments " coming out as a LiveComposition, while I feel the audience. The listeners  are travelling into themselves dreamlike.